Etendard IVM
Description

The Etendard IVM is a rank VI French jet fighter with a battle rating of 9.3 (AB/SB) and 9.0 (RB). It was introduced in Update 1.95 "Northern Wind".
General info
Flight performance
The Etendard has good acceleration up to 1050 km/h, after which the aircraft tends to have a very difficult time accelerating. Manoeuvrability is acceptable when above 800 km/h - not great, but not bad. However, dipping below 800 km/h causes the aircraft to lose much of its turning ability, and energy retention is quite poor at all speeds. The aircraft has a good rate of climb compared to its counterparts.
Characteristics
Max Speed
(km/h at 0 m - sea level)
Max altitude
(metres)
Turn time
(seconds)
Rate of climb
(metres/second)
Take-off run
(metres)
AB
RB
AB
RB
AB
RB
Stock
1,085
1,076
13000
32.7
33.5
79.4
74.2
800
Upgraded
1,114
1,100
31.5
32.0
112.3
95.0
Details
Features
Combat flaps
Take-off flaps
Landing flaps
Air brakes
Arrestor gear
Drogue chute
X
✓
✓
✓
✓
✓
Limits
Wings (km/h)
Gear (km/h)
Flaps (km/h)
Max Static G
Combat
Take-off
Landing
+
-
1263
426
N/A
1,300
389
~10
~4
Optimal velocities (km/h)
Ailerons
Rudder
Elevators
Radiator
< 920
< 750
< 600
N/A
Engine performance
Engine
Aircraft mass
Engine name
Number
Empty mass
Wing loading (full fuel)
SNECMA Atar 8C2
1
3,385 kg
320 kg/m2
Engine characteristics
Mass with fuel (no weapons load)
Max Takeoff
Weight
Weight (each)
Type
11m fuel
20m fuel
30m fuel
38m fuel
950 kg
Axial-flow turbojet
7,228 kg
7,848 kg
8,537 kg
9,088 kg
10,950 kg
Maximum engine thrust @ 0 m (RB / SB)
Thrust to weight ratio @ 0 m (100%)
Condition
100%
WEP
11m fuel
20m fuel
30m fuel
38m fuel
MTOW
Stationary
4,075 kgf
N/A
0.56
0.52
0.48
0.45
0.37
Optimal
5,688 kgf
(750 - 900 km/h)
N/A
0.79
0.72
0.67
0.63
0.52
Survivability and armour
Side walls have a 14 mm steel plate
Front firewall has a 14 mm steel plate
Bulletproof glass is only installed down the center window of 40 mm
Armaments
Suspended armament
The Etendard IVM can be outfitted with the following ordnance:
2 x 30 mm DEFA 552 cannons
4 x 500 lb AN-M64A1 bombs + 2 x 30 mm DEFA 552 cannons (2,000 lb total)
2 x 1,000 lb LDGP Mk 83 bombs + 2 x 30 mm DEFA 552 cannons (2,000 lb total)
2 x AS-20 Nord missiles
72 x SNEB type 23 rockets + 2 x 30 mm DEFA 552 cannons
2 x AIM-9B Sidewinder missiles + 2 x 30 mm DEFA 552 cannons
2 x 500 lb AN-M64A1 bombs + 36 x SNEB type 23 rockets + 2 x 30 mm DEFA 552 cannons (1,000 lb total)
2 x 500 lb AN-M64A1 bombs + 2 x AIM-9B Sidewinder missiles + 2 x 30 mm DEFA 552 cannons (1,000 lb total)
2 x AIM-9B Sidewinder missiles + 36 x SNEB type 23 rockets + 2 x 30 mm DEFA 552 cannons
Usage in battles
Although it does not have an afterburner, the Etendard has a very competitive TWR and acceleration, thanks to its light weight and powerful engine. It also has a good climb rate, decent turn rate, and a fairly standard set of armaments. However, like many French jets at its tier, it tends to have poor energy retention, and any manoeuvring tends drastically reduce acceleration. This means that a turnfighting play-style is often difficult, and defensive flying is hard to do successfully- the player should avoid gaining a tail if at all possible.
As such, the aircraft's good climbing ability and acceleration make it better suited for a more passive boom and zoom play style, where it is unlikely that an enemy will be able to chase it down. Such a playstyle will require teamwork. The Etendard is by no means a solo carry, and diving in and out of furballs to support teammates is often necessary. In this play style, the player will be easily able to keep a speed above 800 km/h (below which the aircraft's manoeuvrability suffers greatly).
The Etendard has two 30 mm cannons mounted on the bottom side of the aircraft. This can throw off many players' aim, and the only way to resolve this issue is through practice. The aircraft's air-to-air missiles, while less able to lock and track enemies than missiles mounted by other aircraft at the tier, can be very effective against slow targets and unmanoeuvrable bombers such as the Vautour.
Modules
Tier
Flight performance
Survivability
Weaponry
I
Fuselage repair
Compressor
M64
II
New boosters
Airframe
Offensive 30 mm
Mk83
Matra SNEB
III
Wings repair
Engine
Nord AS.20
IV
G-suit
Cover
New 30 mm cannons
AIM-9B
Pros and cons
Pros:
Good acceleration and climb rate
Strong cannons and ground-attack capability
Carrier take-off results in a higher starting speed than a land takeoff
Better energy retention than the Super Mystere B2
Cons:
Often uptiered, forcing the plane to face difficult opponents
Has fewer air-to-air missiles than other jets at its rank
Limited ammunition and small payload
Poor low-speed manoeuvrability
Lacks a Ballistic Computer or Radar, limiting its attack effectiveness
History
The Dassault Etendard was developed from an aircraft initially intended for the French Air Force to participate in the competition for the best ground attack aircraft capable of operating from makeshift runways.
This design was not chosen by NATO, which preferred the Fiat G.91. The French Air Force also did not want it and preferred to wait until the end of the development of the Mirage III. However, the prototype built for the French Air Force caught the attention of the Navy, which requested a navalised prototype in 1956.
A new engine was then added to it: the Atar 8 (Atar 9 without afterburner); an in-flight refuelling probe; new high lift devices; a new fuselage with a larger wing area; foldable wing tips; a new reinforced structure to support catapult launches and landings; and finally, an enlarged nose cone to fit the new Aida radar for aerial and ground target acquisition. In addition, a SAAB AX 26 toss-bombing and ballistic computer was incorporated into the design. 5 pre-production airframes were ordered by the French Navy in May 1957. On May 21, 1958, at Melun Villaroche, Jean-Marie Saget took charge of the plane. The Etendard flew as fast as the Super Mystere B2 despite not having an afterburner.
Dassault would produce 90 copies in Mérignac (not counting the prototypes). From the Etendard IVM no.1 to no.69, deliveries were made from December 1961 to May 1965.
The Etendard IVM was gradually withdrawn from service from 1978, due to the introduction of the Super Etendard.
Media
Excellent additions to the article would be video guides, screenshots from the game, and photos.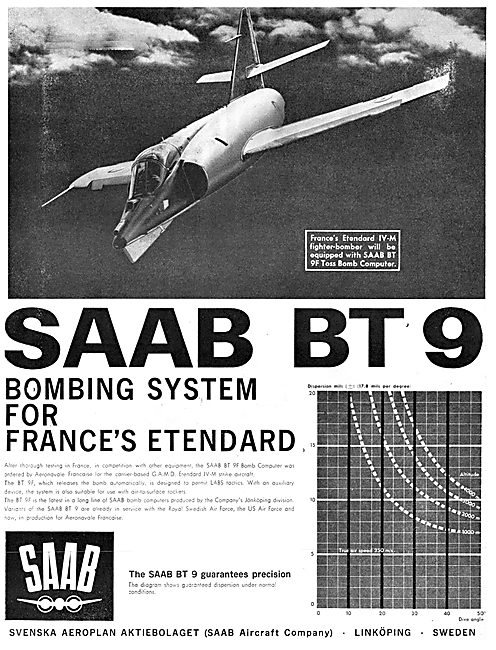 (Etendard on a SAAB advert)
See also
Links to the articles on the War Thunder Wiki that you think will be useful for the reader, for example:
reference to the series of the aircraft;
links to approximate analogues of other nations and research trees.
External links
Paste links to sources and external resources, such as:
topic on the official game forum;
encyclopedia page on the aircraft;
other literature.